Hospital Lift / Stretcher Lift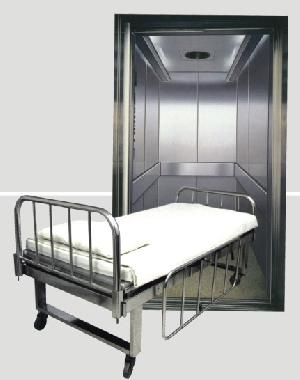 Hospital lifts are designed to lift and transfer patients from one place to another
'Stretcher Lift' means a lift that can accommodate a raised stretcher with a patient lying on it horizontally by providing a clear space not less than 600mm wide x 2000mm long x 1400mm high above the floor level.
Stretcher elevators are a great help in hospitals as they help save time and lives. Many times the patient has to be carried on a stretcher to different floors and these elevators help make it possible as travelling through stairs is risky and time consuming
Benefits of stretcher elevator are
Saves time
Saves life
Multi-storied movement of patients is possible
Urgent Requirements of medical attention possible
Quick Transportation possible
It allows heavy patients to be transferred while decreasing stress on caregivers, while also reducing the number of nursing staff required to move patients. It also reduces the chance of orthopedic injury from lifting patients.
Speed range of Hospital lift is 0.5m/sec to 1.o m/sec.
There are 2 types of stretcher Lifts by application used depending on space and height available
Traction Lift and
Hydraulic Lift
Get A Quote